Skip to Content
Finish Your Kitchen or Bathroom Remodel with Beautiful New Countertops
Have your kitchen or bathroom countertops seen better days? Both rooms are prone to heavy traffic, accidental spills, and leaks from plumbing fixtures. Whether you live in Boiling Springs, Camp Hill, Mechanicsburg, or a surrounding area in South Central Pennsylvania, Dougherty Construction would welcome the opportunity to help you replace them with beautiful, new granite or quartz countertops today. Our friendly, knowledgeable staff is available to guide you through the entire home renovation process. The design possibilities are endless, and we'd be happy to work with you to design custom countertops.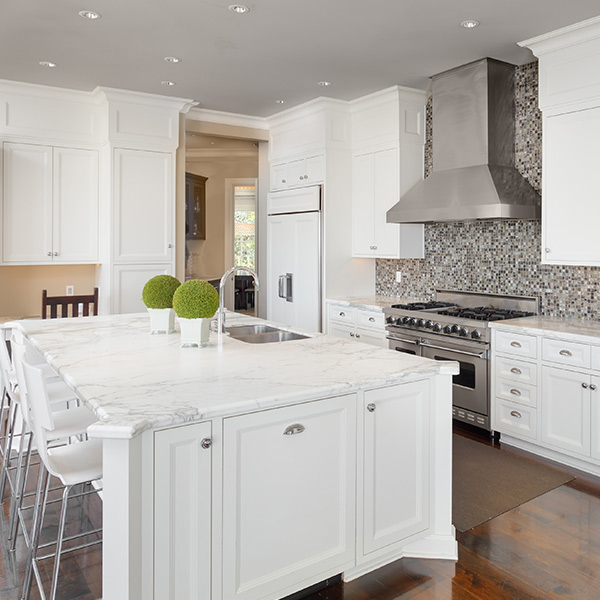 Exploring the Many Benefits of Granite and Quartz Countertops
If you're considering upgrading your kitchen or bathroom countertops to granite or quartz, there are many benefits for you to consider, including:
Durability – Both granite and quartz countertops are durable and built to last, though quartz is less likely to crack if something falls on it. However, because quartz is generally less heat- and scratch-resistant, many consider granite to be a better choice for kitchen countertops.
Stain-Resistance – Both granite and quartz countertops are resistant to stains from foods and other common household products. However, granite is more absorbent than quartz and will need to be resealed at least once a year for better stain resistance.
Aesthetics – Both granite and quartz countertops are pleasing to the eye and come in a variety of colors, textures, and patterns. Because granite is a natural stone, no two slabs are ever quite the same, giving you a more unique look to your countertops. However, human-made quartz slabs are more uniform and seamless in their appearance. Beauty is in the eye of the beholder.
Get a Free Estimate for New Countertops in the Central PA Area
Why not go ahead and splurge a little to finish your kitchen or bathroom remodel in style? Granite and quartz countertops are an investment that pays for itself over time. Do you have additional questions or concerns about granite or quartz countertops? Contact Dougherty Construction for more information or to request a free estimate in South Central PA and the surrounding area. For over 20 years, we've worked with customers from Carlisle and Hershey to Mechanicsburg and New Cumberland. No matter your budget or timeframe, you can count on us for quality workmanship and competitive pricing.
The Proof Is in Our Customers