Skip to Content
Upgrade Your Bathroom with a Modern Look and Feel
Your bathroom is one of the most-used rooms in your house, and yet it's a room many homeowners tend to take for granted. If you've neglected to update your bathroom in quite some time, not to worry. Whether your bathroom could use new cabinetry, more attractive flooring, or more modern plumbing fixtures, Dougherty Construction specializes in bathroom remodels of all sizes for families in communities in South Central Pennsylvania. If space is an issue, we'd be happy to help you maximize every inch of what you have to make your bathroom look and feel bigger.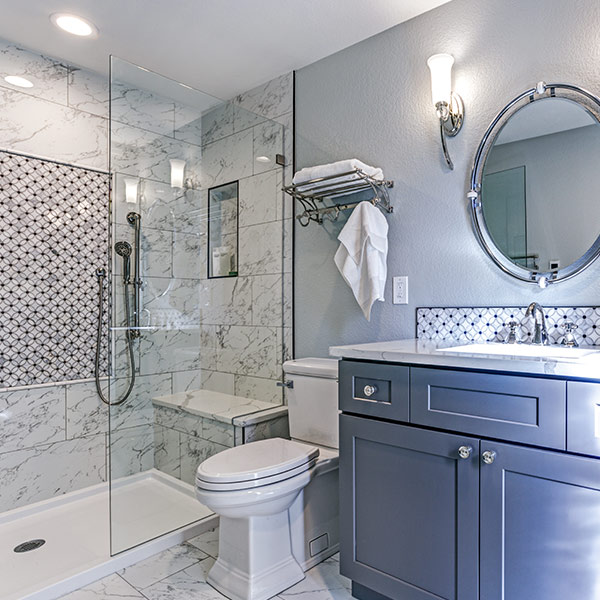 Reasons Why You Should Consider a Bathroom Remodel
Don't become another homeowner who keeps putting off remodeling your bathroom. Here are some good reasons why it may be time to consider a bathroom remodel much sooner than you think:
Start with a Clean Slate – No matter how meticulously you maintain your bathroom, constant exposure to moisture and humidity can create issues with mold and mildew over time. Renovating your bathroom can help you start over with a clean slate, and we can help you look for nonporous materials and fixtures that are better suited to resist mold or mildew growth.
Your Needs Have Changed – Maybe you bought your house when you were still a newlywed. Having children or even aging over the years can change your bathroom needs and priorities. Whether you need to add extra bathroom safety features or materials that can withstand more wear-and-tear, we can help.
Improved Energy-Efficiency – If it's been a while since you've updated your plumbing fixtures, it may be time to consider modern ones that allow for improved energy-efficiency. Not only will these updates pay for themselves over time with reduced water bills, but you also get the satisfaction of knowing you're doing something good for the environment.
Free Bathroom Remodel Estimates in Central PA
If your bathroom's a bit outdated in comparison with the rest of your home, you're not alone. Call Dougherty Construction today to request a free estimate on bathroom remodels in Boiling Springs, Lewisberry, Mechanicsburg, New Cumberland, and other surrounding areas. We'd be happy to take a look at your existing bathroom and make some recommendations for improvements. We have over 20 years' experience to ensure our work meets or exceeds expectations. You won't be disappointed!
The Proof Is in Our Customers